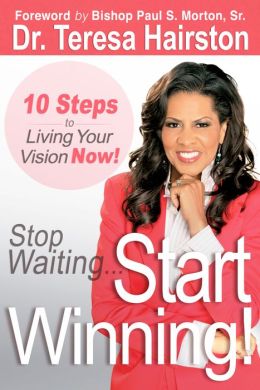 In her book "Stop Waiting…Start Winning!" Dr. Teresa Hairston clearly defines ten essential principles for accomplishing your personal vision. Each power packed chapter presents an important principle, supporting scripture, thought provoking power quotes, practical information, valuable instruction, illustrative examples,and model prayers.
The material is systematically organized if four phases and skillfully developed in ten chapters making up the principles of: Positioning, preparation, publishing, perpetuation, process, patience, passion, productivity, and perseverance. I especially enjoyed her use of alliteration, her insights into Biblical studies, and the inspirational and motivational tenor of her writing. Throughout the book Hairston calls attention to the message of the Old Testament prophetical book of Habakkuk, as well as illustrations from other Old and New Testament writers.
Hairston establishes the importance of getting clarity in understanding where you are on the "Vision Continuum" and in the "Vision Model" which are basic concepts to accomplishing your vision. This is a book that "begs" to be read with your favorite highlighter at hand. The "power quotes" are worthy of concentrated study, memorizing, frequent review, and assimilation.
"Stop Waiting…Start Winning" is an important addition to the library of everyone seriously desirous of understanding, plotting, and accomplishing their personal dreams and Vision.
A complimentary copy of this book was provided for review purposes. The opinions expressed are my own.
Stop Waiting… Start Winning is available at: Amazon