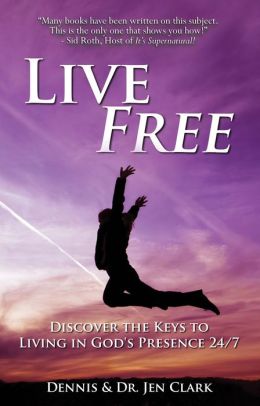 Pastor Dennis and Dr. Jen Clark demystify what it means to experience freedom through intimacy with God in their book, Live Free: Discover the Keys to Living in God's Presence 24/ 7. The book details systematic, proven tools, with easy to understand step by step instruction for embracing in everyday life to find freedom from mental strongholds, negative emotions, and deliverance from spiritual bondage.
Exciting testimonies and personal stories tell of people who have implemented the author's powerful "God tools" to discover "the reality of God and the treasures of the spirit." They have moved into freedom in areas of spiritual and physical health, and have found new purpose in life. Through intentional prayers for forgiveness, and adapting a process of supernatural thought transformation, choices, and feelings involving, body, soul, and spirit they have found freedom. They have exchanged bitterness, brokenness, and unforgiveness, for joy, peace, and abundant life as a new norm.
Live Free: Discover the Keys to Living in God's Presence 24/ 7 is written with clarity. The keys are helpful for a new generation of followers of Jesus and ideal as a training resource for mature Christians in mentoring and in discipleship training.
A complimentary copy of this book was provided for review purposes. The opinions expressed are my own.
Get a copy of Live Free: Discover The Keys To Living In God's Presence 24/7 at: Amazon