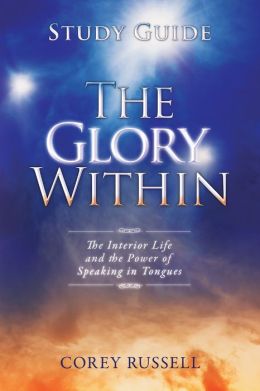 Companion Guide to The Glory Within DVD Curriculum Series
The Glory Within: The Interior Life and the Power of Speaking in Tongues Study Guide is designed to be used as a participant's guide with the DVD Curriculum based on Corey Russell's book by the same title.
The study guide corresponds to the eight sessions of the video curriculum. Each lesson opens with a "fill in the blanks" page for use during the video session; it becomes an outline of the material covered in the lesson with room for the participant's personal notes.
Five daily readings are included for each week for study; for reflection, and reinforcement of the material discussed on the video. A "Glorious Reality" focus statement precedes the daily discussion questions. These questions offer the participant a chance to integrate the daily scripture and reading personally as well as an opportunity to journal these thoughts. An affirmative prayer is provided for initiation of a personal conversation with the Holy Spirit.
The Glory Within curriculum is a first-rate tool for sharpening your spiritual senses, accessing the Holy Spirit for equipping you for spiritual warfare, deepening your intimacy God, and your passion for Jesus.
A review copy of this book was provided for review purposes. The opinions expressed are my own.
Get a copy of The Glory Within Study Guide at: Amazon